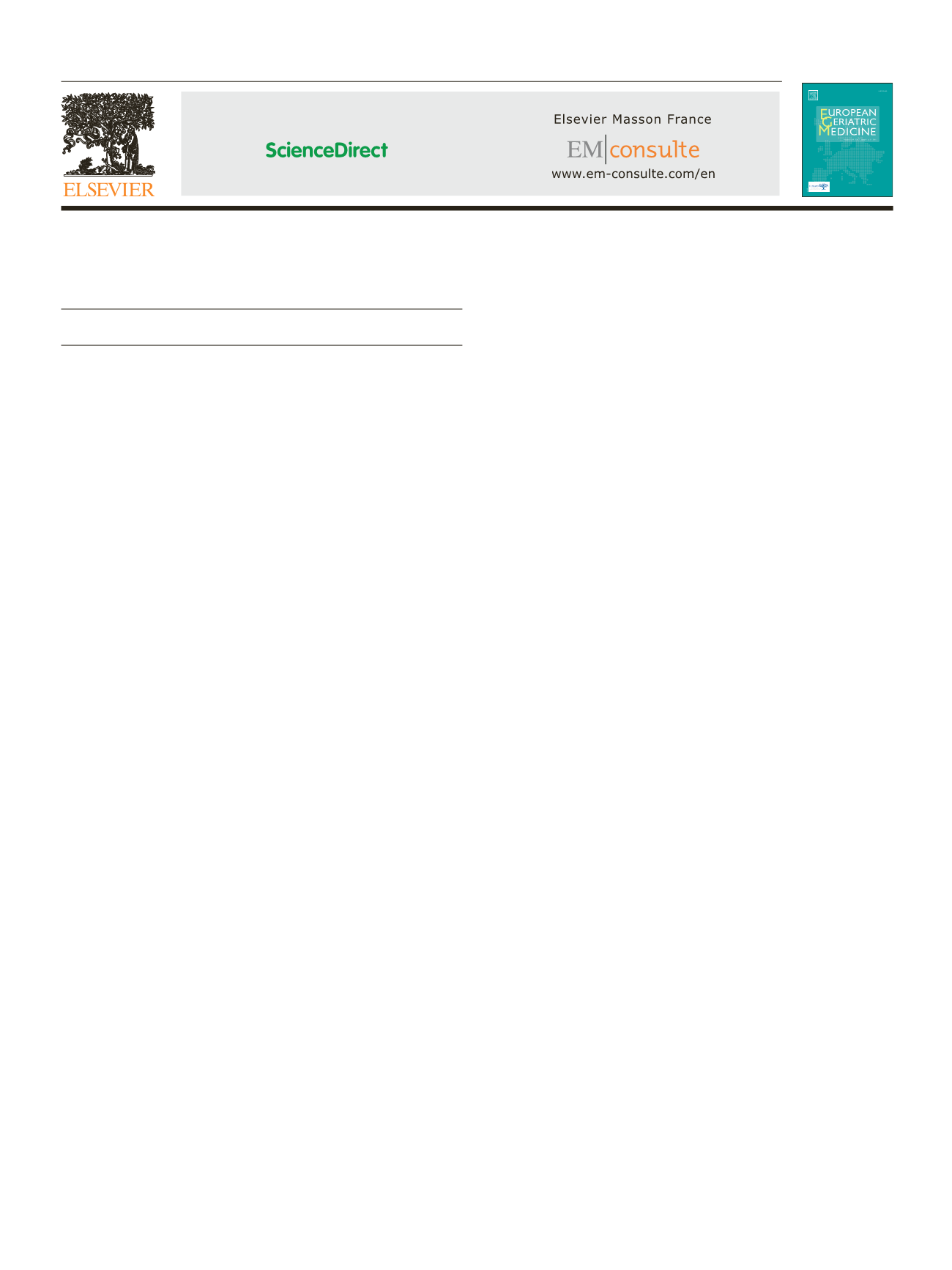 Poster presentations
Area: Acute care
P-001
Treatment and outcomes of hip fracture in Lithuania, in 2010
M. Tamulaitiene, M. Jaramaviciene, J. Jaramavicius, V. Alekna.
Faculty of
Medicine of Vilnius University, Vilnius, Lithuania
Objectives:
To analyze the methods of treatment and outcome of hip
fractures in Lithuania.
Methods:
This population-based retrospective study was performed
collecting the data from all orthopaedic inpatient departments
in Lithuania. The records of subjects, who were hospitalized because
of primary hip fracture (ICD-10 codes S72.0, S72.1 and S72.2) at the
age over 40 years in 2010, were examined. Methods of treat-
ment were conservative and surgical, while the latter was divided
into fixation by screws, plate or intramedullary nail (IN), and total
hip arthroplasty (TA). The outcomes included death, transfer to
another department, discharge home or long-term hospital, and
rehabilitation.
Results:
In 2010, 2626 hip fractures occurred in Lithuania. The most
common method used was osteosynthesis: fixation by plate accoun-
ted for 41.4%, screw
–
21.1%), and by IN
–
in 3.4% of cases. TAwas used
in 25.9% and conservative treatment
–
in 8.1% of patients. After fixation
by screws, plates and IN, the majority of patients were discharged
home (42.5%, 35.8% and 37.8%, respectively) or to long-term care
hospital (24.5%, 22% and 32.2%, respectively). Otherwise, after TA,
70.1% of patients underwent rehabilitation. Among patients treated
conservatively, 39.7% were transferred to another department, ant
their mortality rate was highest (4.2%). Number of deaths was lowest
after treatment with screws (0.7%).
Conclusion:
In 2010, in Lithuania, the majority of patients with hip
fracture were treated with osteosynthesis using the external fixation.
Rehabilitation was more often outcome of treatment using total hip
arthroplasty, as compared to osteosynthesis.
P-002
Prognostic stratification of older adults in a geriatric day hospital
for acute care: comparison of four screening instruments
M.J.R. Aliberti
1
, S.Q. Fortes-Filho
1
, J.A. Melo
1
, C.B. Trindade
1
,
D. Apolinario
1
, W. Jacob-Filho
1
.
1
Division of Geriatrics, Department
of Internal Medicine, University of Sao Paulo Medical School,
Sao Paulo, Brazil
Objectives:
The identification of patients at high risk for adverse
outcomes plays an important role in medical acute care. We aimed to
compare the predictive values of four screening instruments in an
innovative model of Geriatric Day Hospital (GDH) in Brazil for older
adults with acute diseases.
Methods:
Prospective study that enrolled subjects aged 60 years and
older accessing a GDH over a 12-month period. Demographic data and
screening instruments (Identi
fi
cation of Seniors at Risk [ISAR], Triage
Risk Screening Tool [TRST], Community Assessment Risk Screening
[CARS] and Silver Code [SC]) were administered at admission. Follow-
up by monthly telephone interviews was conducted within six
months to assess the outcomes (incident disability, emergency
department [ED] visit and hospitalization). The ability of each
screening instrument to predict outcomes at six months was esti-
mated using area under the receiver operating characteristic curve
(AUC).
Results:
Of 537 participants, mean (SD) age of 79.7 (8.4) years and 63%
female. The ISAR had a better performance in the AUC to predict
disability when compared to CARS (0.66 vs 0.59, p < 0.01) despite
being similar to others. The CARS had better AUC than ISAR (0.63 vs
0.57, p = 0.03) and TRST (0.63 vs 0.55, p < 0.01) in predicting ED visit.
Comparing with TRST, CARS (0.59 vs 0.52, p = 0.01) and ISAR (0.58 vs
0.52, p = 0.02) had a better prediction for hospitalization.
Conclusion:
The overall predictive power of the four screening instru-
ments assessed in an innovative model of GDH in Brazil was poor in
predicting adverse outcomes in older people at acute care.
P-003
Interface geriatrics
−
acute care for older people
E. Burns
1
, A. Cracknell
1
, F. Bell
1
.
1
Leeds Teaching Hospitals NHS Trust,
England, UK
Introduction:
Recent demographic changes have resulted in an
increased geriatric population emergency admission rate. These
patients are frail, older adults with multiple long-term conditions at
risk of multiple hospital admissions. The solution calls for an inno-
vative, multi-professional service to deliver person-centred care.
Method:
We developed a service offering consultant geriatrician
review in the emergency department (ED). In conjunction with the
early discharge assessment team ((EDAT)
–
team of nurses and
therapists) we perform an early comprehensive geriatric assessment
(CGA) beginning within the first hour of presentation. We utilised the
EDAT to assess mobility, provide equipment and integrate patients care
with community and social services. In addition, we altered patient
medications, treatment plans, initiated outpatient investigations and
arranged follow up clinics.
Results:
590 patients were seen and received CGA in our trial period.
58% were discharged from the ED, 27% were admitted to hospital
and 15% were admitted to due delays in arranging social care. For
comparison, baseline ED discharge rate is 20
–
25% (over 85 years) and
28
–
33% (75
–
85 years). We found no difference in readmission rates
for this group discharged from ED
–
18%, compared with the rate after
discharge from our Medicine for Older People wards
–
17%. Informal
feedback from patients and carers was largely positive.
Conclusion:
Our novel integrated acute care model has delivered high
quality early assessment to frail older people and developed good
multi-disciplinary working practices across traditional boundaries.
It has resulted in efficiency improvements in terms of appropriate
admission avoidance without increase in readmissions.
P-004
Safety and feasibility of percutaneous coronary intervention in the
elderly patients
N. Bendaoud, M. Saidane, A. Azouz, S. Seddiki, S. Latreche,
S. Benkhedda.
Algiers University, Mustapha Hospital
Background:
In parallel with increasing age in the north Africans
overall population we Remarque an increasing in the indication of
European Geriatric Medicine 7S1 (2016) S29
–
S259
Available online at
www.sciencedirect.com
1878-7649/© 2016 Elsevier Masson SAS and European Union Geriatric Medicine Society. All rights reserved.